Archer Dental Blog in Downtown Toronto
Business blogs are typically pretty dull affairs, and medical business blogs are often so 'safe' they're seldom worth reading.  But Archer Dental medical blog is different. The portal has become a rare glimpse inside the inner workings of three busy dental offices in downtown Toronto. It chronicles the media appearances of Dr Natalie Archer, and medical breakthroughs reflected in shiny new high technology gadgets, celebrity guests, and most recently, the launch of Dr Grant Yiu's 564 College St location, Archer Dental Little Italy.
Rich with original photography and insightful text the blog bends convention and banishes the more traditional lollypops that most dentists put in their pages.  The authors reject cliche as they work to show who, what, where and how and why things happen, and give readers an insightful look at what goes on inside their otherwise private world. 
From medium-wide shots to extreme close-ups, the authors like to show exactly what's happening in their patient's mouths. Above is the opening act in a long story about tooth implants. The patient sits in Archer Dental Rosedale pointing at his left eye tooth, which is about to be removed.
Dr. Natalie Archer is an almost famous Canadian medical professional. You've probably seen her on television as she's appeared on Rogers, Global TV, CHCH, CTV and CBC networks in one capacity or another;  she's been interviewed about the politics of dentistry on the news (should basic dental care be covered by the government?), and she's been a guest on daytime television talk shows discussing oral hygiene while dispelling myths and correcting mistakes regarding oral health.
She makes an appearance in most of the blog posts, and has been known to try out new procedures such as GLO Science teeth whitening with her bloggers in the room.  They were encouraged to shoot the procedure from every angle for future reference and possible publication.  In the post we can see the dentist herself endure the procedure as a patient.
Celebrity Sports Stars Get Custom Sportsguards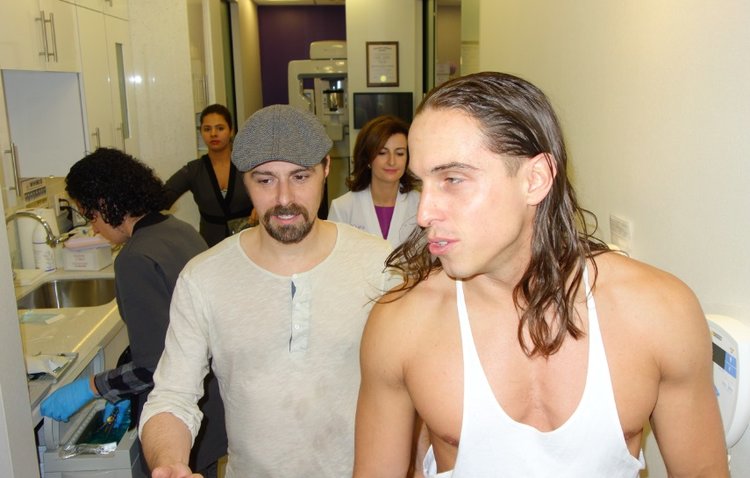 One of the most entertaining posts of 2016 was when Archer Dental Rosedale extended a free custom fit mouth guard or Sports Guard (a half mouthpiece which protects the top teeth only) to The Lover, a charismatic wrestler in a local semi-pro wrestling league that was preparing for a Championship match.
The photo on the left is wonderfully authentic, and shows the scenario at play; here's the manager keeping the sports star occupied while the rest of the staff, including Dr Archer herself, are seen bemused by the athlete in the background.
Miss World Canada at Archer Dental Rosedale
In October 2017 when Cynthia Menard, 2017 Miss World Canada got her teeth whitened at Archer Dental the images were included among other pictures of Cynthia's preparations in a well read eMagTO article about the 2017 Miss Canada en-route to Miss World competition in Sanya China.
The blog on the Archer Dental website really took off in 2018, as the Archer Dental enterprise scaled up to launch its third location in the heart of the nation's largest Italian Canadian community.
Archer Dental Launches 564 College St. Location During the 2018 Taste of Little Italy Street Festival
Reading about the VIP launch party with its red carpet and red velvet ropes is an absolute pleasure; the Archer Dental Little Italy launch party post visualizes the establishment and both dentists and many staff members. There's even pictures of little Mia, Grant Yiu's four year old daughter whose presence at the party exemplifies Archer Dental's family focus in this new community. Some celebrity guests are detailed in this post, many seen chatting with Archer Dental staff members who are rarely seen wearing civilian clothes. The post relates how lifelong patients and suppliers who attended the launch party often didn't recognize staff members in their party duds.
The account ends with pictures of a mariachi band who appeared without warning to serenade the staff with classic Latin ballads, "Cielito Lindo", "Guantanamera", "Mexico Lindo Y Querido" and "Cuando, Cuando, Cuando".   There are photos of staff members dancing and snapping selfies during this musical mayhem.
The very next piece on the site chronicles the activity that happened the following day during the annual street festival.  Archer Dental Shoot the Tooth game booth impacted the 2018 Taste of Little Italy Street festival and the blog post describes in great detail all the inner workings of the attraction that was mounted that Saturday the 16th of June 2018. 

With suction cup tipped arrows and plastic bows, the Archer Dental staff invited folks passing their booth to come shoot the tooth and win prizes, the least of which were red, green or white balloons.  The top prizes were gift certificates for the neighbouring ice cream parlour, The Big Chill.


The piece ends with a story about two sisters, and how one overcomes shyness to succeed and win a prize after some coaching by her sibling. Its a great piece of blogging, and it seems reasonable to expect even more and better posts will come through Archer Dental's active blog channel.